Foundation for Polish History and Culture






---

Field School 2024
Slavia Field School in Mortuary Archaeology, Giecz, Poland
For 10 years (1999-2008) Giecz Archaeological Complex has been a training ground for many international anthropology students who tirelessly mastered their practical skills in osteology and archaeology helping out at the Slavia excavations of the 12th century inhumation cemetery, commonly known as Giecz, site 4. Since then, many of these people have successfully pursued their careers in forensic sciences, bioarchaeology, or archaeology. Some of them have become university professors.
Now, the Slavia Field School in Mortuary Archaeology is pleased to invite new generations of anthropology students for a new joint effort at site 10 in Giecz. This site, which was discovered three years ago, is another inhumation cemetery and dates back to the beginning of the 11th century AD. Two pilot excavation seasons revealed 35 burials following the Christian rite, with bodies oriented east- west. The human remains feature very good preservation and include skeletons of both sexes and all age categories including newborns. Most burials have a variety of grave goods typical for western Slavs, and some are outstandingly well furnished. Among every day utensils such as iron knives, hardware fittings, and clay vessels, some graves have jewelry and decorations such as earrings, metal and glass rings, glass and carnelian bead necklaces. Some of the dead are even equipped with wooden buckets! Clearly this cemetery represents a spectrum of the local community's social stratification. It cannot be ruled out that the richest graves belong to members of the Piast royal elite.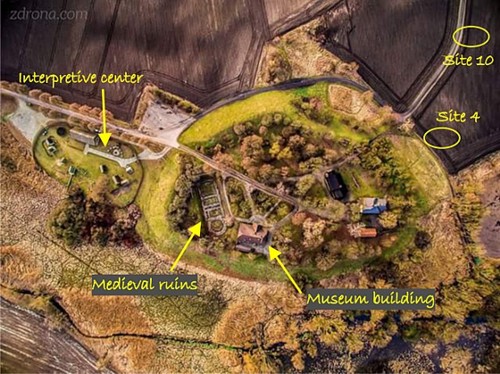 Giecz from the air
The Slavia Project, Mortuary Archaeology Field School in Giecz welcomes all students wishing to gain practical experience in excavating human remains and other aspects of mortuary archaeology. We are looking forward to your input in the search for yet undiscovered secrets of this site and will be happy to work with you. As the cemetery is located on an agricultural field and is subject to destructive deep plowing, your work will not only give you hands-on experience, but also the satisfaction of conserving and protecting an exceptional historical site. At the moment, the only way to preserve this unique treasure of Polish heritage is to meticulously investigate and document it. We hope you will help us to get this job done.
| | | | |
| --- | --- | --- | --- |
| | | | |
| Gravel road leading to the site 10 | An outline of the grave pit | The exposed skeleton | Characteristic Christian layout |
| | | | |
| A wooden bucket | The bucket close-up | Carnelian beads | A copper coin |
| | | | |
| The coin close-up | An infant | A juvenile | An adult |
| | | | |
| Excavating… | Excavating… | Excavating… | Documenting… |
| | | | |
| Documenting… | Meanwhile in the neighbourhood… | And looking more to the west… | |